PETERBILT MODIFIED 1.35.X
V 2.2.4 Mod für Eurotruck Simulator 2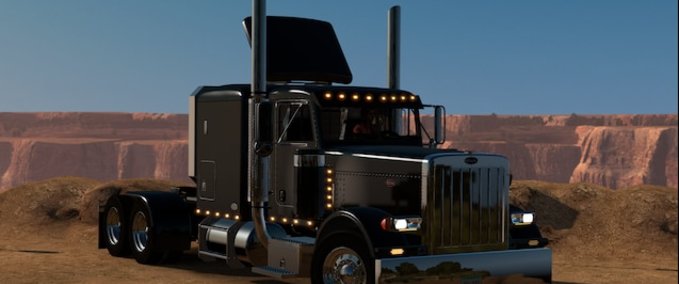 Beschreibung
Сhangelog v2.2.3
fixed missing files
updated for ets2 1.35
added dx11 support
Standalone
For sale in Iveco
Interior (several options)
Wheels
Sounds
Registered in agency orders
Supports all DLC
Custom interior
A large number of accessories and tuning
Changelog previos v2.1:
fixed truck width and all needed parts ( fender, bumper, mudflap hanger)
rearranged all headlight models
added new 389 style headlights
added few headlight accessories
added new fender bars/blinker bars
added new steps (379 classic style, 389 style with dpf box)
added new mirrors ( door mounted 379 style)
added external 379 style interior
added round door window when select 379 style interior
changed the truck paint material and all painted parts
added new bumpers
added new LED lights
fixed the cab models ( fixed normals, removed double vertics, done proper edge spliting)
changed front bumper variants
added paint window trim
added new type of antennas (now selectable)
added new variants of DEF tank combo (painted and short variant)
added steps as tank accessory
rewritten all addon hookups ( should now don't conflict with other mods)
added new exhausts
added light slots to some sun visors
added new cabin racks (models by bansheewoj)
added new deeper sidebar
added retro roof wing for daycabs and flattop sleeper
added support for heavy haul dlc front banner and flags
updated engine sounds with new ones from kriechbaum
updated engines with torque curves
took out the classic engines ( will be a separate addon mod, to remove the clutter in the engine selection of the main truck)
fixed some engine specs
fixed some bugs
Credits
Builder by Ivan (Haulin)
Import ATS/GTS and building : Kenworth58(2)
GTS import: Iljaxas
Parts : Ivan, Superman, Classick, Bayonett, Artic Wolf, Cedric, Peter379, Colonel, Dylan, Matt, Steve, Bora, Rowan, Sascha, Chris, maxx2504, Fabio Contier, Ventures87 (Wendi), RBR-DUK, Jon, Deadman, Colonel
Convert to ETS 2: "dmitry68", "Stas556"
Sounds: Kriechbaum
Technical Support: Solutech
Modified by : maxx2504, ED101, Kriechbaum, V2obert, viper2, Harven
Änderungen
11. Juli, 00:34 Uhr

Version 2.2.4

PETERBILT 389 MODIFIED V2.2.4 1.35.X

Changelog v2.2.4
Adapted for 1.35:
Updated cat c15 sound

Standalone
Interior (several options)
Wheels
Sounds
Registered in agency orders
Supports all DLC
Custom interior
A large number of accessories and tuning

Changelog v2.1:
fixed truck width and all needed parts ( fender, bumper, mudflap hanger)
rearranged all headlight models
added new 389 style headlights
added few headlight accessories
added new fender bars/blinker bars
added new steps (379 classic style, 389 style with dpf box)
added new mirrors ( door mounted 379 style)
added external 379 style interior
added round door window when select 379 style interior
changed the truck paint material and all painted parts
added new bumpers
added new LED lights
fixed the cab models ( fixed normals, removed double vertics, done proper edge spliting)
changed front bumper variants
added paint window trim
added new type of antennas (now selectable)
added new variants of DEF tank combo (painted and short variant)
added steps as tank accessory
rewritten all addon hookups ( should now don't conflict with other mods)
added new exhausts
added light slots to some sun visors
added new cabin racks (models by bansheewoj)
added new deeper sidebar
added retro roof wing for daycabs and flattop sleeper
added support for heavy haul dlc front banner and flags
updated engine sounds with new ones from kriechbaum
updated engines with torque curves
took out the classic engines ( will be a separate addon mod, to remove the clutter in the engine selection of the main truck)
fixed some engine specs
fixed some bugs

10. Juni, 23:22 Uhr

Version 2.2.3
Dateien
Empfehlungsrate
-/-
noch nicht genug Stimmen
Ist dieser Mod besonders empfehlenswert?
}