Addon for the Big Heavy Pack v3 from Blade1974
V 3 Mod für Eurotruck Simulator 2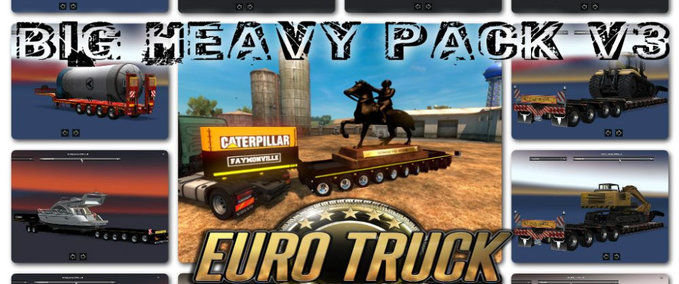 Beschreibung
Dieses Addon ist für Fans von ungewöhnlichen Verkehr und schwere Ladung gedacht.

Diese Ergänzung änderte die Masse mehr als 150 Ladungen von Big Heavy Pack v3 und 31 Standard-Ladungen. Die Reichweite von Frachtgewicht von 3 bis 200 Tonnen.
Auch alle Ladungen von Big Heavy Pack v3 wurden umbenannt.

Die wichtigsten Mod, die Sie auf dieser Seite oder auf anderen Seiten, die für dieses Spiel gewidmet sind, zum Beispiel: ets2.lt/en/big-heavy-pack-v-3-0/

Dieser Mod beansprucht keinen vollständigen Realismus.

Verbinden im Spiel:
1. Steckerkarte anschließen.
2. Verbinde den Hauptmod (Big Heavy Pack v3) im Spiel.
3. Verbinde das Addon (Big Heavy Pack heavy v3) im Spiel.

AUFMERKSAMKEIT! DAS SEHR WICHTIG!
Priority-Datei Big Heavy Pack schwer v3.scs muss höher sein als Datei Big Heavy Pack v3.scs !!!!!!!!!
Wenn dies ignoriert wird, wird sich die Masse der Anhänger nicht ändern!

AUFMERKSAMKEIT! OHNE BASIS MOD WIRD NICHT ARBEITEN!
Credits
Author of the main mod: Blade1974
Author of this addon: Tornado
Änderungen
07. August, 20:19 Uhr

Version 3
Dateien

Empfehlungsrate
-/-
noch nicht genug Stimmen
Ist dieser Mod besonders empfehlenswert?
}